This house was brought back to life. It had been sadly neglected, but the structure was solid. With lots of tile, building materials, paint and love it was renovated. All the floors were replaced, walls removed, the kitchen and bathrooms gutted, new lighting installed and paint throughout shines up the interior. The house is a home again. It says:
"Welcome"
This kitchen is great in so many ways. Not only is it super functional, it is beautiful as well. The split wall cabinets use all the wall space and provides for lighted displays. Under cabinet task lighting are low voltage LED. The pendants over the island reflect the home's nautical decor. Every base cabinet has pull out trays, accessories, or full extension, soft close drawers. The blue pearl granite provides the contrast surface to the glass tile back splash. From the kitchen you can see the river flow by......
Accessories abound in these cabinets. Lazy Susan in the corner.
Recycle center.
Pull out spice rack next to the range

Master Bathroom
A curb-less shower allows the bather an easy entry to the shower as it is all on one level and has integrated grab bars.
No falling here.
3/4" pipe for the thermostatic and volume control valves insure constant water pressure.
A thermostatic valve controls the body sprays and hand showers. Individual valves control the water for customized showering.
Deep soak whirlpool tub. AAhhhhhh
Laundry Room
The Laundry Room is transformed in to a spacious work space with plenty of storage space. Not seen is another 36"x 84" x 12" full height cabinet for more storage!



The hall bath is generously appointed with a built in seat, 2 body sprays and a multi function shower head on a slide bar and second wall el.
With a beautiful view of the river these home owner's can enjoy a cozy fire. Can you believe the floors are all 6" x 24" ceramic tile!
Before Photos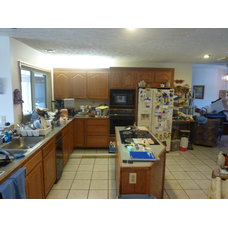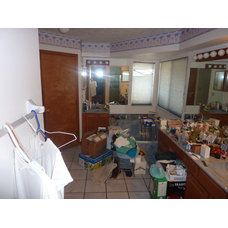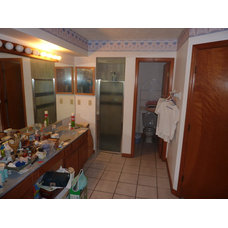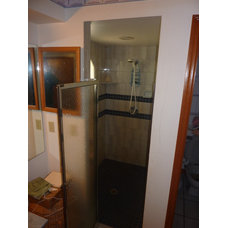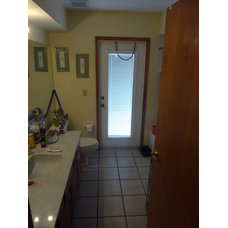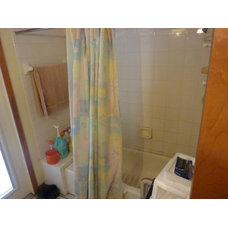 Four Walls Design and Construction, Inc. can help make this happen for you.
For more information about this renovation, ask any questions or just say hi, call
561-686-0076

or email
Alice@4Wallsinc.com